BP Architects'
architectural services
for your dream home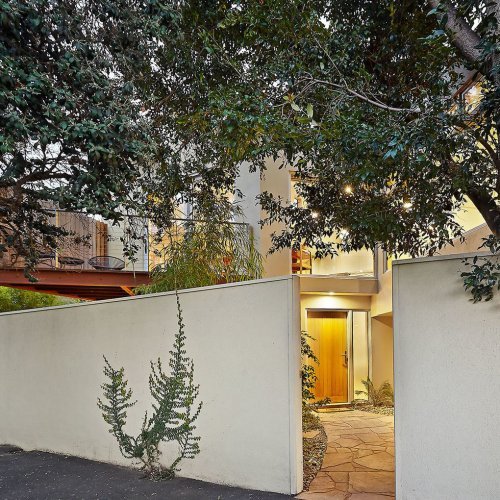 Do you feel that your home is making you sick?  That you keep having allergies, and nothing seems to help?
Do you have high household energy bills that keep going up each year?  And that during summer you have to run your air conditioner to stay comfortable in your home.
That you have to run your heater for most of the winter and are still not comfortable in your home?  You find that your house is draughty and cold despite your heating.
Well, it doesn't have to be this way.  If you plan to renovate your home or build a new home, you want to make sure your new home is comfortable with low energy bills.  And that your new home doesn't cause you to suffer from health issues from allergies.  There is a way.
BP Architects Award winning homes
BP Architects have been designing homes for our happy Clients for nearly 20 years.  And we have been recognized for our sustainable home designs, winning many Industry Awards.
Our architect-designed homes are contemporary in appearance.  They are unique and innovative in their design.  And they have all the benefits that a sustainable home brings.
The homes we design for our clients are designed for healthy living in an energy-building efficient home.
We specify non-toxic building materials for the construction of these homes.  So that our clients know that their new home will be a low allergy home with low chemicals and good indoor air quality.  Some of our clients have told us that their allergy and asthma symptoms have disappeared after they have lived in their new home.
Working with our clients to design their homes for their optimum healthy lifestyle.
Do you want your new home to be a healthy, sustainable home? A home that has low household energy bills?
You can contact Bridget at BP Architects and find out how you can make your home a Healthy Home with low energy bills.
BP Architects' Architectural Services
We provide the following architectural services:
Home visits and architectural consultation including Your Home Design Options Review
Map out your Brief and your new home budget
Feasibility studies for your home project
Site visits and site evaluations
Home Concept architectural design
Sketch Designs
Organize building cost estimates
Design development
Town Planning Applications
Energy Efficient House Energy Star Rating
Contract Documentation for Building Permits
Tendering – Builder's pricing and negotiating construction quotes
Contract Administration during construction
We can provide you with the full architectural service from start to finish of your new home.  And we can provide some of these architectural services, such as visiting your home site or producing a concept plan and sketch design drawings for your new home.
The following explains further what is involved with each of these architectural services.
Your Home Design Options Review
You may have questions about what is the best home renovation design for you.  And how do you go about getting the right home built for you and avoid expensive mistakes?
You may have lots of ideas about your Dream Home, but you are not sure how they should all go together.  Or you might not know anything about home design, which may be the first time you are renovating your home.
The reason why we provide Your Home Design Options Review architectural service is that it is a good first step to help find unbiased answers to your questions.  This can help you make the most of the home you have and make the right decisions in your home renovation.
If you have a clear idea of what type of house you want, it is easier to get your dream home.  With so many options available, it isn't easy to know what is right for you.
So with Your Home Design Options Review , a qualified Architect visits you in your home and discusses the different design options available to you.  So that you can work out what is the best home design for you and your family.
Your Home Design Options Review will give you a plan of action on how you can best work towards your dream home.
If you are interested to learn more about how you can renovate your home on your budget, reduce your energy bills by 20% and make your home a healthy home, for a limited time you can watch a special and unique online Master Class.  You can sign up to watch the FREE 'Smart Renovators' 45-minute Master Class.
Or speak to Bridget at BP Architects and book Your Home Design Options Review.
Your Brief and new home budget
Your Brief for your new home is an essential first step, and it is not always as straight forward as first thought.  All the same, it is essential to get your Brief worked out from the start of your new home project.
The Brief provides clear instructions on your unique requirements for your new home.  We can help you work out your dream home Brief based on what is essential to you to live your ideal home life.
Once your Brief is worked out, then we can help you work out your Budget for your architect-designed home.
Site visit
Your home doesn't sit in isolation.  Even on a large rural property, the landscape is the context or background for your home.  So rather than ignore your immediate environment, you want to look for opportunities.  These site opportunities can enhance the quality of your home design and living experience.
A site visit is essential if you're going to get the best home designed for you.  It may only require an initial site visit.  Or it may need a follow-up site visit to get your home design right.
Your home location and the microclimate of your home site have an impact on your home design.  As will your neighbouring buildings.  We go to your home site and work out the best way to design your home, given your immediate surrounds.  And the climate of your home site.
Your home concept architectural service
From your Brief, we understand the essential aspects of your Dream Home. So your architect will use your Brief as the basis of your house design, whether this design is for your existing home or in your new home.
Our Concept Design architectural service shows you the design ideas for your architect-designed home.  It is an easy way to see the 'big picture' of your home.  And make sure that all the essential aspects of your home are in place.  As Jan from the Sunbury eco-home said
 "Bridget took our ideas and made them so much better".  Jan, ecoHome, Sunbury
Sketch Design of your new home
After completing the Concept Design architectural service, the next step is Sketch Design.  We make sure that everything is right with you in the Concept Design of your home before moving forward.
So we progress to the sketch design architectural service, where sketch drawings of your floor plans and elevations are drawn up.  You start to see your home taking shape, and your Dream Home ideas come to life.
We then produce Sketch Design drawings to show you more details about your new home.  And you start to see your home taking shape in the proposed plans & elevations.  It's an exciting time as your architect-designed home is beginning to come to fruition.
"We have been very impressed with Bridget's design – from her first draft to the final product. She has always listened carefully to our suggestions, either amending drafts or providing a better alternative. During the process, we felt that we had "ownership" of the house and its design. At no stage did we feel as though it was the product of an architect's whim & fancy." Brian, Cheltenham Home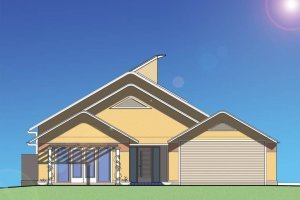 building cost estimation of your new home
Do you worry about going over budget with your new home or home renovation?  Is this something that is stopping you from getting your dream home?  Are you concerned that you don't know anything about how much building costs?  We understand how you feel.
Your budget is important.  It doesn't mean that you can't have your dream home.  A budget means that you know how you are going to fund your home project.  And you want this to be a consideration in the design of your future home.
Before your builder starts building, you can have your building costs estimated.  A Quantity Surveyor or Building Estimator can do this for you.  You can estimate your home project at the end of the sketch design or after documentation.  We assist our clients in obtaining a building estimate for their new home.
Your building costs estimation provides you with information to make informed decisions.  If your building cost estimation is higher than you budgeted for, you may need to reduce your home project size.
"The approximate cost she detailed was very close to some of the quotes we received from builders.  We have successfully managed to find a good repute builder who can build our house within our budget. Our dream is now becoming a reality! We have a design that suits us personally & are looking forward to seeing it completed this coming year."  Brian, Cheltenham Home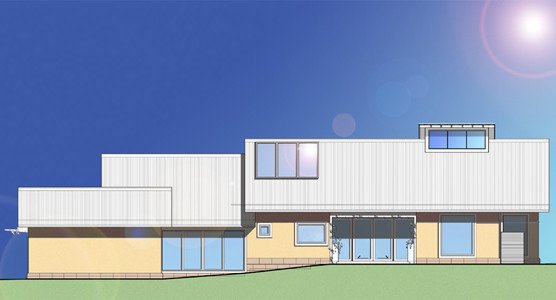 Design development Architectural service
After the completion of the sketch design architectural service, the next step is to develop your architect house design.  The Design Development architectural service takes your sketch plan looks at the details of your home.
Looking at the construction method of your home and the use of various materials.  Including the fixtures and finishes in your new home.  Information that the builder needs to know when building your new home.
Your Town Planning APPLICATION
Do you know if your Home Project requires Town Planning Approval?  Well, this is something you would want to find out.  Why?  One good reason is that you will not get your Building Permit approved if you need a Town Planning Permit.
If you want to know more about permits that may affect your new home you can download our Permits Infographic from our home page.
So a building permit will not be issued to you if you have not got the approval from Town Planning to do what you want to do to your home.
The documents required for Town Planning are different from Building Permit documents.
Town Planning documents show information for the Town Planner, not the builder.  The drawings show your neighbourhood character and the design approach for your home.  And other Town planning issues.  Such as overlooking and overshadowing your neighbouring private open spaces.
Sometimes, gaining Town Planning Approval can be difficult.  Complications can arise in a Town Planning Application.
Building Overlays
Furthermore, any Building Overlays on your Title can further complicate your Application, such as a Heritage Overlay or Special Building Overlay.  If your Title has Building Overlays, your Application needs to address these Overlays.
If you need a Town Planning Permit, we provide Town Planning architectural services.  We can prepare the comprehensive reports and drawings required for your Planning Permit.  And submit them to your Council's town planning department on your behalf.
An insider's tip is that it is a good idea to have an initial design appointment with your Council's Town Planner.  This way, you can get an early response from your Town Planner to your plans for your home.
We can assist you in facilitating these meetings with your local Town Planner.  Sometimes there are disputes about what you want and what the planning requirements will allow.  As part of our architectural services, we can help you with alternative solutions and try to resolve these disputes.
Speak to an Architect at BP Architects today, about your home project and Town Planning requirements.
Energy Efficient House Energy Rating
To get a Building Permit for a home project, you need at least a 6-stars house energy rating.  A House Energy Rating Software program calculates the house energy stars.
After information on your home project is fed into the program, the software program can work out your house's energy stars.  House Energy Stars indicate your homes' building energy efficiency.  The most number of energy stars a home can get is ten stars.
We make sure that your home design will have at least 6-stars from the very beginning of your home design.  As part of our architectural services, we will do an energy rating of your home at the design stage.
That way, you know that your home will comply with the energy efficiency regulations for getting your building permit.
Contract Documentation architectural service
A Building Permit application requires architectural construction drawings and specifications.  Also a House Energy Rating Report of 6-stars or more as mentioned above.
The construction drawings show the materials and structure of your home.  Details on the architectural drawings provide the builder with this information so that they can build your home.  You may need engineering drawings for your building permit—our architectural services, including preparing the drawings and documents required for Building Permit applications.
There are two ways you can apply for a Building Permit.  You can go to a private Relevant Building Surveyor.  Or you can use your local Council's Building Surveyor.
The building surveyor often asks for more information after you lodge a Building Permit application.  Building Surveyors can ask for additional drawings and documents to ensure compliance to their satisfaction.  This is to ensure your new home building complies with the Building Code of Australia and the Australian Standards.
Construction of your architect-designed home will involve many different trades, from the electrician to the plumber, carpenter, cabinet maker and so on.  The Construction Specifications provide details for the builder and tradespeople to know what to supply and build and the works' quality.  And also the necessary compliance requirements for the Construction Standards.
We know this process well.  For example, when our Client Brian was getting the quotes for his new Cheltenham home, he found that:
"When approaching builders with the plans and specs provided by Bridget, the builders were impressed with the quality and level of detail in the plans Bridget provided."  Brian, Cheltenham Home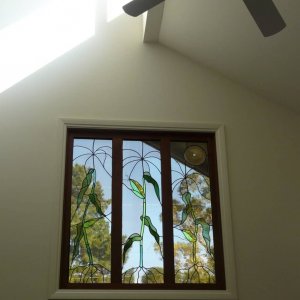 tendering And negotiating
The next step is to find a builder to build your architect-designed home.  You have your final Construction Drawings and Specifications.  Now is the time to organize some builders to quote on your home project.
When the builder's price for building your home this is called Tendering of your home Project.  Once you get your quotes back, you can go through a selection process.  The tenders help you to choose the right builder for your home project.
When Tendering your home project, we can contact builders on your behalf as part of our architectural services.  You want to know you are paying the market price for building your new home. And that the builders are competitive in their pricing. They can be your preferred builders. Or we can source a local builder with a good reputation to quote on your project.
If the Builder quotes above your budget, there are many options available. We help our Clients through Tendering and negotiating their Construction Costs.  In short, we can negotiate with the Builder on your behalf.
Contract Administration architectural service
During your home construction, we can provide an architectural service where we act as your representative on site.  This phase of your home project is the Contract Administration phase.
The architectural services during Contract Administration includes assisting the builder with additional information and providing regular site inspections.  If any issues arise during your home construction, we can help the builder work out a viable solution.
This way, you know that your home will get built to your expectations.  And that the building of your house is according to your documents.  You know that you will get the house you paid the builder to build for you.  And keep you informed along the way.
Sometimes a builder will want to build a home their way using a different construction method than what is shown on the drawings.  This is acceptable if the different method achieves the same outcome.
There have been numerous times when the builder has said things like "it can't be built" or does "that steel beam run horizontally through the kitchen?".  Only to be shown that it can be built and no, that steel beam is cranked like a portal frame, so you don't see a horizontal beam through the kitchen.
Contact BP Architects
If you want some help to get the home of your dreams, we can help you from the initial idea to the final touches.
We want your path to your dream home to bestress-free and you to be 100% satisfied.  Find out how you can have your Dream Home, the easy way.  Contact BP Architects today!
You can watch the video below to find out more about our architectural services and sustainably designed homes.  And learn what makes a house a healthy sustainable home.