Torquay Home, Victoria, Australia
 A Sustainable home that pays its own way.
Sustainability is defined as a requirement of our generation to manage the resource base such that the average quality of life that we ensure ourselves can potentially be shared by all future generations. … [Geir B. Asheim, "Sustainability," The World Bank, 1994]
A Sustainable Home considers many aspects such as passive solar design principles, energy building efficiency and water conservation.  Affordability is another aspect of sustainability.
A Brief Description
Thinking ahead about their home's future potential, the Clients decided that they needed a beautiful home that was Climate ready and had the ability to sublet part of the house without compromising their lifestyle separately.  This would provide extra income without the expense of purchasing another property.  They could live an environmentally friendly life they wanted and sublet without interfering with their lifestyle.
Detailed Feature Description
Located on the 18 hole championship golf course at The Sands, Torquay, the home provided an ideal location to sublet the self-contained apartment.   The home location is perfect for those who want to enjoy a holiday in comfort, surrounded by a serene environment with waterways, a golf course, and a nearby beach.
The Sands Golf Course management has strict design requirements (Building and Environmental Management Code) that require compliance in the design of new houses, including an external material and colour palette.  Designed for low maintenance, Colorbond steel wall cladding was used for the upper levels and rendered brickwork on the lower level.  Large window walls take in views of the surrounds of green fairways and wetlands.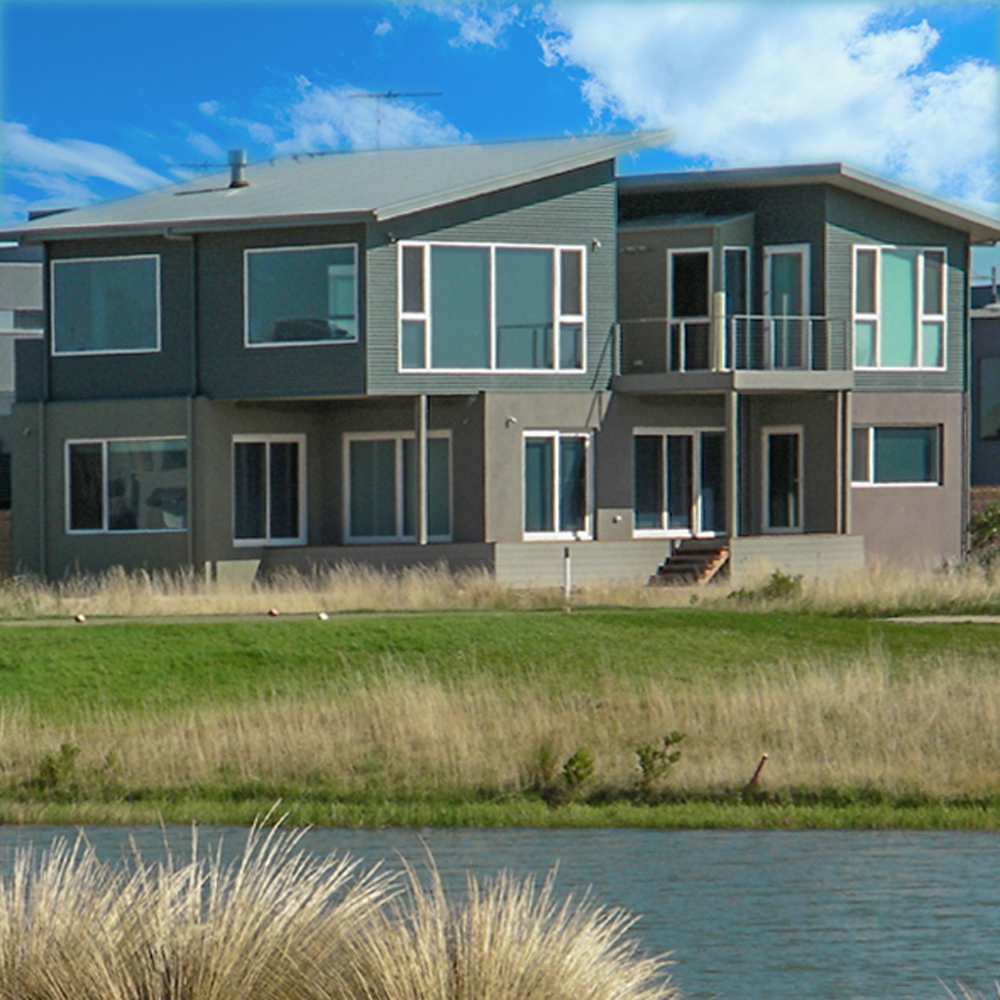 The Torquay Home was designed according to sustainable and ecological architecture principles.  Living in a green home reduces the residents' carbon footprint and allows them to maintain a healthy lifestyle.  A separate office on the ground floor provided the Client with a workplace with panoramic views.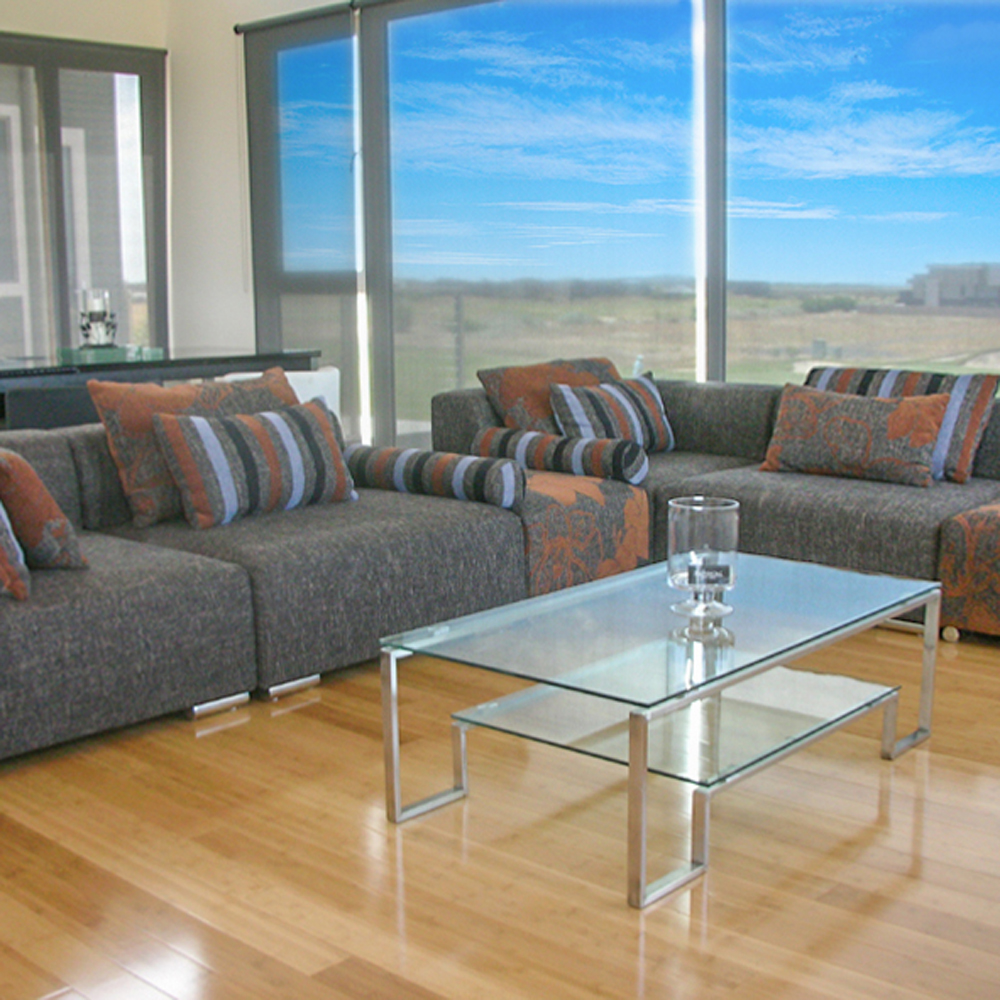 The Weather Conditions
The Surf Coast region has a temperate climate, with mild and relatively dry summers and cooler and relatively wet winters.   The Surf Coast region is predominantly exposed to a southerly and westerly wind climate. Winds are strongest in spring and during summer afternoons under the influence of sea breezes.
The Sands is a diverse, unique and integrated residential golf course located adjacent to a sensitive foreshore environment and the Karaaf Wetlands within the Surf Coast Shire.  The Karaaf Wetland contains both wet and dry saltmarsh and is particularly significant because of the adjacent Poa grassland and dunal system.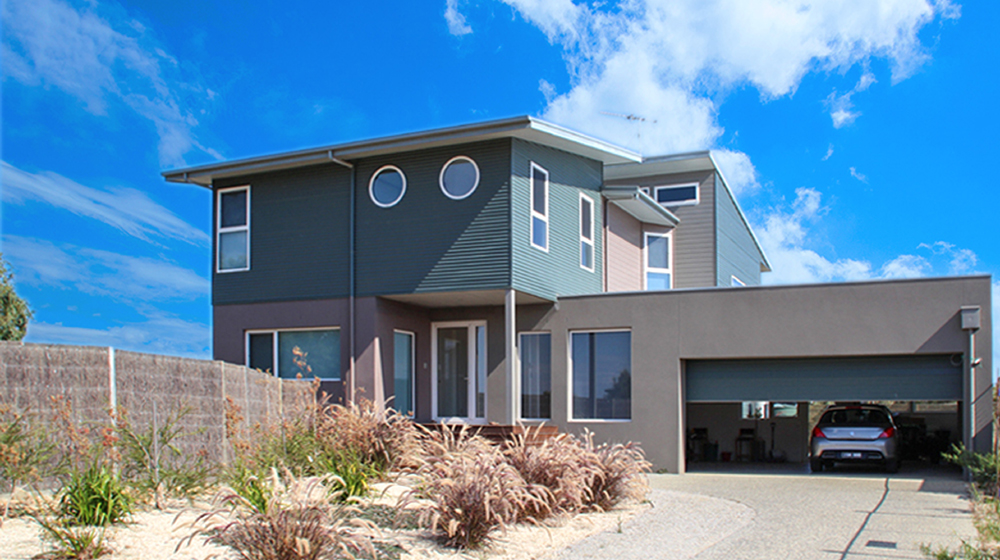 Aesthetic
BP Architects as award winning architects design healthy, sustainable homes which are not only smart but play a part in a healthier living environment and lifestyle.  The Torquay home provided an escape in a comfortable peaceful haven for Clients with a busy life.
Homes designed on green architecture principles are environmentally friendly and energy-efficient, making them cost-effective in the long term running costs. BP Architects are making a difference, and so can you by residing in an ecological building.
If you plan a new home and would like to talk to an architect about your future home, drop us a line.

[contact-form][contact-field label="Name" type="name" required="1″ /][contact-field label="Email" type="email" required="1″ /][contact-field label="Website" type="url" /][contact-field label="Comment" type="textarea" required="1″ /][/contact-form]

Or visit us at https://bparchitects.com.au

Save

Save