Sunbury Home, Victoria, Australia
A Sustainable home designed to accommodate several generations of the one family under the one roof.
A Brief Description
Ecological design is "any form of design that minimizes environmentally destructive impacts by integrating itself with living processes" as defined by American architects Sim Van der Ryn and Stuart Cowan.
The Sunbury Home is a contemporary expansive house, designed using the basis of ecological architecture and sustainable design, accommodating 3 generation in different wings of the home.
Detailed Feature Description
The family loved the look of stone buildings and wanted a sustainable comfortable home that over looked the parklands to the south.  To manage costs and to design a home that would be comfortable in summer and winter, a compromise was struck.
Castlemaine sandstone was used for the front feature wall and pillars, and the main house constructed from highly insulated walls and high-performance glass.  This gave the appearance of a stone home at the front of the house and the comfort of a highly insulated home.
The Weather Conditions
With more extreme weather events and the increasing awareness of global warming, people have started to become environmentally conscious about the impact of their actions and the sustainability for the future of their younger generation and loved ones.
Energy Efficiency
BP Architects designed the Sunbury home so several generations could live comfortably in an energy efficient and sustainable building.  Several living areas were designed within the house, with natural extension to outdoor living areas, allowing the Occupants a peaceful retreat.  The family would come together in the central focus of the main family room, which had expansive views of surrounding parklands.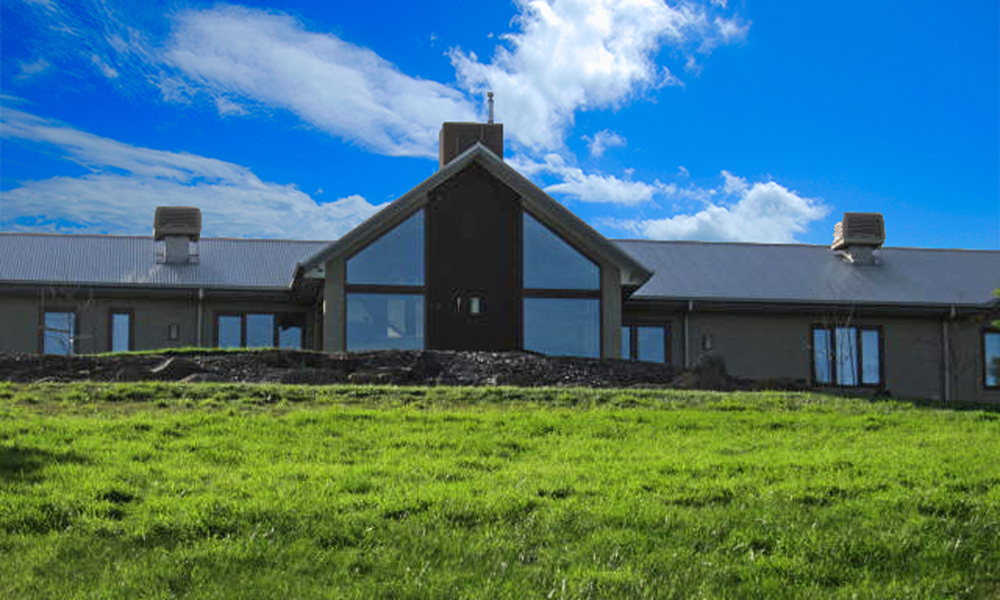 Aesthetic
Designed as contemporary sustainable home, with highly insulated walls and stone cladding.  The home includes a wing for the grandparents, a parent's wing and bedrooms for the children.  The house sits high on the hillside with parklands below.
The airlock entry provides a secure entry and assists in maintaining comfortable indoor air temperatures.    The high raked ceilings of the family room and glass windows extending to the ceiling provide an extensive view of the sprawling parklands surrounding the Sunbury home.
The Sunbury home has been designed with the principles of sustainable buildings and energy efficient home design.  Three generations of a family are accommodated nearby in a comfortable, liveable home.

If you plan a new home and would like to talk to an architect about your future home, drop us a line.

[contact-form][contact-field label="Name" type="name" required="1″ /][contact-field label="Email" type="email" required="1″ /][contact-field label="Website" type="url" /][contact-field label="Comment" type="textarea" required="1″ /][/contact-form]

Or visit us at https://bparchitects.com.au

Save